Wharfedale Festival of Theatre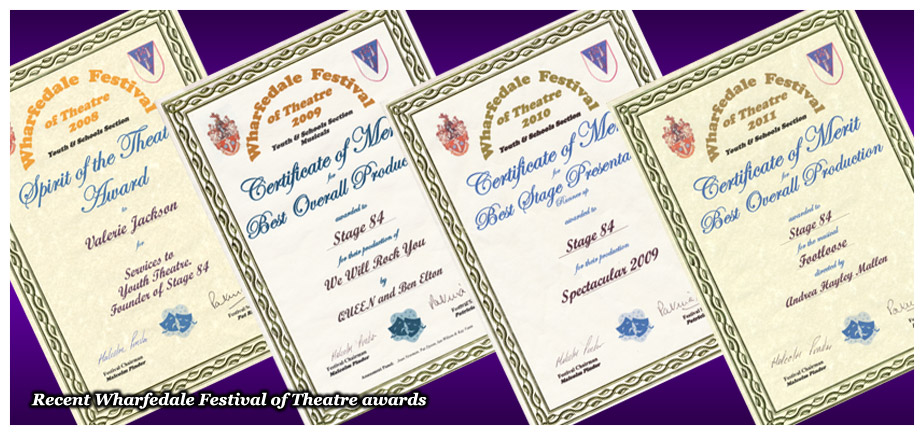 Stage 84 has entered for Wharfedale Festival of Theatre adjudication for many years and has won many awards including Best Director, Best Choreographer, Best Musical Director, Best Actor in a Leading Role, Best Actress in a Leading Role, Best Programme Design, Most Outstanding Production and Best Overall Production.

In 2012 we presented Peter Pan - A Musical Adventure at the Bradford Alhambra theatre.
Here are some extracts from the assessor's report;
"Peter Pan - A Musical Adventure is not an easy choice - technically demanding, musically difficult in this version.
Stage presentation - both in the setting and lighting you brought out the best, particularly in the Neverland scenes.
You are very lucky to have the talents of Craig Winward as director but also because of the multi-media facets of his
production. The video highlights were outstanding, costumes were well chosen and dead in period for the Darling household.
Sound levels musically and vocally seemed just right. Jim Lunt once again worked his miracles which gave the principals
the ability to sing what seemed difficult music so well. Choreography - Rebecca Cook and Amy Watkins yet again worked
miracles, from the precision of the full company to the individual talents of the principals, well done.
A joyous, professional production of a much-loved tale, and please pass on our thanks from
myself and the assessors for a spectacular evening's entertainment.


In 2011 we presented Beauty and the Beast at the Bradford Alhambra theatre.
Here are some extracts from the assessor's report;
"This show has to look spectacular and magical, both in scenery and costume, all of which you mastered.
I loved the use of graphics during the overture, so congratulations on the video design.
Costumes and makeup were all we have to come to expect from Stage 84, well done to all concerned.
Jim Lunt has to be congratulated once again on his musical direction.
Singing - this was work to the highest standards by any company.
The choreography by Rebecca Cook and Amy Watkins again was an incredible achievement.
The discipline, the entrances and exits etc, are always flawless, I cannot praise you highly enough for this.
Craig's direction was superb, from overture to finale. It had great pace; it always looked interesting. There were no weak
links and, whereas often in musicals spoken word is the weakest aspect of the show, that was not so in your production.
Towards the end of the performance I glanced at some of the audience, from five year olds to octogenarians.
The former were totally engrossed and the latter were grinning like the proverbial Cheshire Cat.
And that said it all to me. A wonderful evening of theatre that would grace any stage."

Stage 84
Peter Pan - A Musical Adventure
Alhambra Theatre, Bradford
Best Overall Stage Design
Stage 84
Disney's Beauty and the Beast
Alhambra Theatre, Bradford
Best Overall Production
Best Director - Craig Winward
Performance Award - Thomas Ramsay
Performance Award - Lucy Annable
Performance Award - Zak Derler
Performance Award - Lauren Whiteley
Performance Award - Caitlin Fraser
Performance Award - Bradley Johnson
Performance Award - Sarah Kissack
Performance Award - Freddie Butterfield
Performance Award - William Cooke

For our production of Footloose at the Bradford Alhambra Theatre in 2010 we won;


| | | | | |
| --- | --- | --- | --- | --- |
| | Best Youth Musical | | Best Director - Andrea Mallen | |
| | Best Choreographer - Rebecca Cook | | Best Actress - Terrelle Kay | |
| | V. Jackson Dance Award - Matthew Mills | | Performance Award - Danny Dixon | |
| | Performance Award - Jordan Gray | | Performance Award - Laura Hawkyard | |
| | Performance Award - Terrelle Kay | | Performance Award - Shaunagh Kellegher | |
| | Performance Award - Alexandra Mardell | | Performance Award - Matthew Mills | |
| | Performance Award - Philip Hill-Pearson | | Performance Award - Thomas Ramsay | |
| | Performance Award - Francesca Verity | | | |