Music For Youth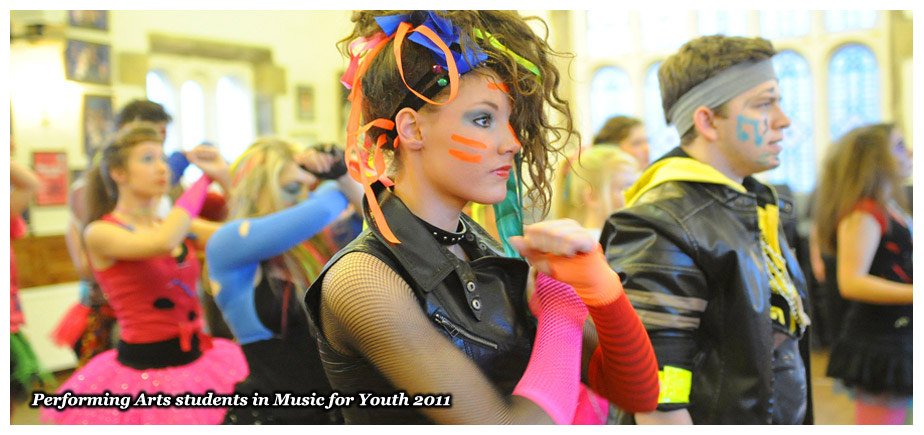 In 1991 Performing Arts students received 'Most Outstanding Musical Ensemble' and 'Most Outstanding Individual Performance' awards for their performance of Stage 84's own musical, 'Ellis' at the Barclays Music Theatre Awards, South Bank, London. We have since continued to compete at a National level and most recently reached the 2012 Finals of the prestigious Music For Youth Festival held at the Birmingham Conservatoire. For our Senior Ensembles class entry we created a new mini-musical entitled Sporting 2012, themed around the London 2012 Olympic Games. The piece explored both the preparations for London 2012 and the aspirations of the public looking to a future sporting legacy. Lyrics written by the students themselves were incorporated into the score. The cast were accompanied at the Halifax (Regional) performance by students from Ermysted's Grammar School, Skipton. In Birmingham, for the Music For Youth National Festival, our orchestra was expanded to include brass sections, saxophone and synthesizer. Adjudicator comments;
"We know we're in for a treat right from the moment you enter the stage! A fantastic chorus sound -
warm with carefully balanced harmonies. This sounds professional - mature, natural voices with no sense of force.
I love the minimal stylised production. The soloists each deliver their lines with character, style and technical assurance.
All the physical stuff is expertly done. - Effortless with precision and commitment. Great to see you working with a
live band too. Truly engaging and convincing from start to end. Inventive, contemporary and with the sort of
professional sheen that makes you stand out from the crowd. An excellent performance."
We also reached the 2011 National Finals. For this entry we combined songs from Billy Elliot and We Will Rock You under the theme of 'Rebellion' to create a powerful piece of theatre. Adjudicator comments;
"Excellent solo voice start, excellent support from the ensemble, excellent choreography.
Your voices blend really well and your diction is excellent and well projected. This is slick and well rehearsed.
You are all confident performers, you move well and you keep the energy high throughout your performance.
Your freeze frames are excellent and really add to the tension. Voices are technically sound, well toned,
carefully tuned, diction and rhythmic unison is all in place even during the most physical moments.
Your part singing comes through and the harmony adds depth and colour.
A very carefully designed programme that effectively integrates the theatricals
with a technically assured and musical presentation of the songs .
You are great at communicating with the audience, keep it up!"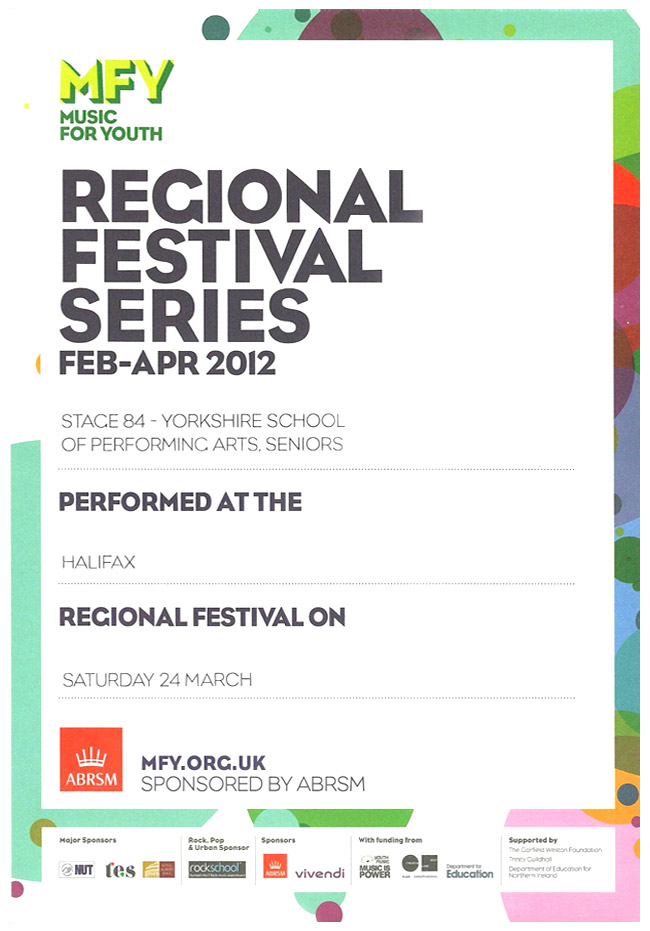 2012 Music For Youth Certificate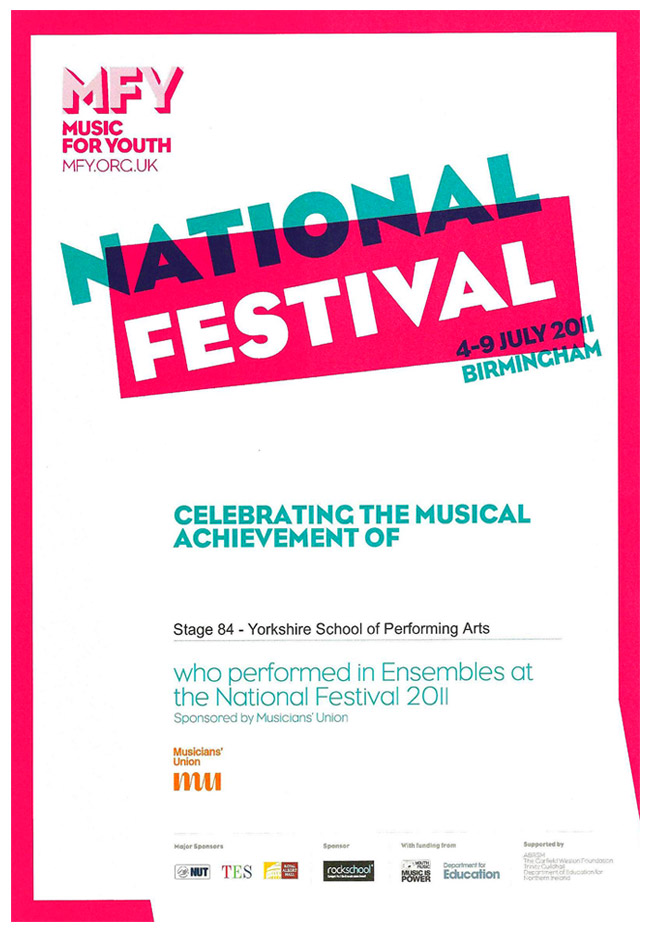 2011 Music For Youth Certificate
2010 Music For Youth Certificate